Coming soon: Creatures & Cards in print!
March 13, 2017
The one-week Kickstarter to fund illustration by Len Peralta has ended, raising nearly twice our goal, adding bonus illustrations and three bonus Heroes! The follow-up one-week Kickstarter for a limited-edition deck has also ended well above its funding goal, adding Jacks illustrations and more bonus Heroes! Illustration is nearly finished, and print files are being prepared. When completed, Creatures & Cards will join the other Popcorn Press card games I've designed—and one by Bill Connors—in PDF and print-on-demand formats.
In the meantime, the free rules below work with a standard poker deck, so you can discover for yourself how the game plays.

[These rules came to me in a dream one night. A bit of family playtesting, and here they are for you!]
A fighter, a wizard, a priest, and a thief walk into a dungeon. The dragon says, ""Sounds like a party!" This game uses a standard poker deck to represent 2-4 fantasy heroes battling their way through an underground complex to find treasures and rescue captives. Who will emerge with the most loot and followers?
How to Win
At game's end, the player with the most points of diamonds (treasure) and hearts (followers) wins! (Each card counts as its number value; Jacks count as 11 and Queens count as 12.)
Game Prep
Shuffle the four King cards and deal one to each player. These are used to identify which character each will be playing.

Spades King is the Fighter, who can play two attack cards each turn and kill more than one monster at a time.
Clubs King is the Wizard, who can make a mass attack on monsters anywhere.
Hearts King is the Priest, who can heal a wounded follower or rescue a follower from the discard pile.
Diamonds King is the Thief, who can steal the lowest numbered treasure card from the player with the most treasure cards.
These powers are explained in more detail later.

Shuffle the rest of the deck and place it within easy reach of all players.
Begin play with the Fighter, going clockwise around the table for player turns.
Player Turn
Each player goes through these 7 steps on their turn.
Draw: Bring your hand to 5 cards.
Followers: You may play 1 follower (heart card) from your hand to the table in front of you.
Monster(s): You may play any number of monsters (club cards) from your hand, adding 1 monster to each player of your choice and any number on yourself.
Attack: You may play 1 attack (spade card) on the monster in front of you (if there is one).

If the attack is equal to or greater than the monster, the monster is killed.
If the attack is less than the monster, the monster is weakened—place the attack card on the monster to show how many points remain to it.

Counterattack: If any monsters remain in front of you, they damage your followers. Compare total remaining monster health to total follower health, and discard that many points of follower cards.

If any monster points remain, discard that many cards from your hand, then discard the monsters.
If instead, any follower points remain, keep that many points of follower cards and discard the rest. If needed, use a monster card to cover part of a follower card, leaving that follower's remaining health uncovered. Discard the other monster cards.

Treasure: You may play 1 treasure (diamond card) from your hand for each monster killed (see "Kings and Jokers" below). If you cannot play a treasure card for a monster, turn up the top card of the draw pile instead: if it is a treasure or follower, play it in front of you; if it is an attack, put it in your hand for later; if it is a monster, play it in front of you (it will affect your next turn).
Discard 1 or more cards if desired.
Kings and Jokers
Kings remain in front of players, identifying them for the duration of the game. Jokers are a special attack that take the place of a normal attack.
Spades King: The Fighter can play 2 attack cards (in step 4) and add their values. Whether 1 or 2 attack cards are played, their total attack value is compared to the total monster cards value, possibly killing 1 or more and weakening another. Mark any remaining weakened monster as usual.
Clubs King: The Wizard may (in step 4) either attack normally or use a single attack card to kill more than one monster anywhere in play, even in front of other players. In this mass attack, compare the attack card's value to each monster individually—if the attack value is equal to or greater than the monster's value, that monster is killed, otherwise it is not affected.
Hearts King: The Priest can (in step 2) either go through the discard pile to rescue a follower and play it or heal a follower by discarding the monster on it. This action is in addition to playing a follower as usual.
Diamonds King: Once per turn, the Thief can steal a treasure from another player instead of turning up the top card of the draw pile (step 6). This must be the lowest value treasure from the player with the greatest number of treasure cards (not the greatest total value). In case of a tie, the Thief must take the single lowest valued card among the tied players.
Jokers count as magical attacks that kill all monsters in front of you. Play a joker in step 4 instead of a spade, then place it on the discard pile.
Ending the Game
Play through the draw deck once, then shuffle the discards to make a new draw deck.
Play through this second draw deck, then allow each player one last turn with the cards remaining in their hand.
Count the total points of treasure and followers together for each player. The player with the most points wins.
Design: Lester Smith. Playtesting: Christine Hofpar, Christopher Hofpar, Cristian Hofpar, Jennifer Smith, Karalyn Smith, Katheryn Smith; Chibi Illos: Peileppe www.peileppe.com (except Thief & Priest assembled by Lester Smith).
Copyright © 2017 Popcorn Press
I've been role-playing for ages now—pretty much from "the beginning"—and gamemastering for nearly as long, besides reviewing, designing, and publishing RPGs. I've played thousands of sessions, hundreds of different game titles, with hundreds of different people—and still discover some delightful new nuance of role-playing from time to time.
The most recent "aha" moment came during a Gary Con session of Angela Roquet's "The World of Lana Harvey, Reaper's Inc.," using the D6xD6 RPG rules.
The D6xD6 RPG is a fairly experimental one-stat system that adapts well to lots of different settings. Its core rules are free online at www.d6xd6.com, with five sample settings. A couple dozen other settings based on novel lines I admire are available as add-ons.
One of those novel lines is the Lana Harvey setting, starting with Graveyard Shift (which is free on Kindle). It deals with the adventures of a group of junior reapers (including the titular Lana Harvey) trying to survive the perilous machinations of gods and demons in the afterlife.
Sometimes, for a break, they go shopping.
So when Angela and I started working on the role-playing chapter for this setting, we talked about including fashion as a special rule. Basically, whenever a character enters a scene, the owning player has to take a moment to describe the character's clothes, hair, makeup, and accoutrements. I "tried it on for size" with a group of complete strangers at Gary Con.
To say it went over well is an understatement. From my perspective, it seemed as if I'd discovered a secret key to the gamer psyche. Everyone at the table went into great detail about his or her character's wardrobe—from the guy with the combat boots, ripped jeans, Ramones T-shirt, and razor-blade earrings; to the fruit-hatted temptress in a slinky red dress with black stiletto heels and death's-head dueling pistols; to the blonde in an electric blue skirted business suit and pumps; to the gal in cowboy hat and shirt, blue denim jeans, and cowboy boots; to "Christopher Lee in a cowled robe—with sword cane."
Let me be clear: There's no game or story benefit from this description; it's purely for fun. And every player went full tilt. Their descriptions made me grin, even laugh out loud, and the details made the ensuing action so crisp and convincing. I can't wait to play again!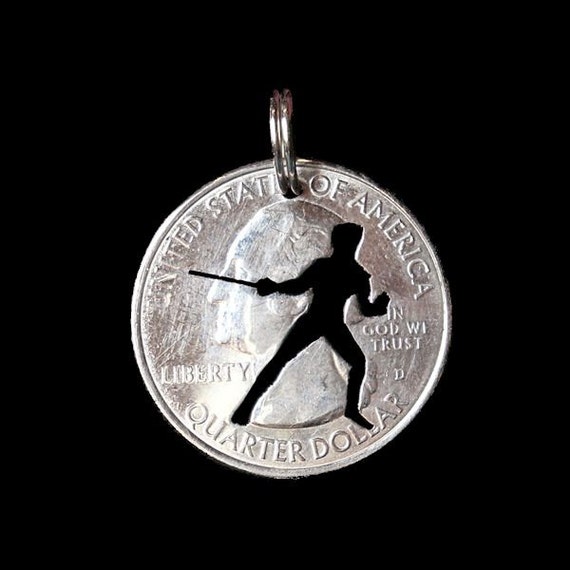 Convention plans are beginning to fall into place. Watch the bottom of the right sidebar for a growing list of convention attendances.
Besides lots of D6xD6 RPG events, I'll be running some card games—including a regular Clashing Blades! tournament in which you could win a deck, or even take the medallion above from around my neck.
Here's the deal on that: (1) players are paired off for a practice round to learn the rules; (2) those pairs then play an actual tournament round; (3) whoever wins their first round keeps that deck; (4) the tournament winner plays me for a shot at the medallion.
These things aren't cheap, so I won't make it easy, which means if you win it, it's worth bragging about. Here's a list of upcoming events, so you can plan if you like.
D6xD6 RPG – Ghost of a Chance – Friday, 02-13-2015 – 12:00 pm to 4:00 pm – Lake Michigan A – Table A (Gaming)
Clashing Blades Tournament – Friday, 02-13-2015 – 4:00 pm to 6:00 pm – Lake Michigan A – Table B (Gaming)
D6xD6 RPG – Shotguns & Sorcery with GoH Matt Forbeck – Saturday, 02-14-2015 – 11:30 am to 3:00 pm – Lake Michigan A – Table A (Gaming)
The Mother of all Monster Cons – Saturday, 02-14-2015 – 3:00 pm to 6:00 pm – Lake Michigan A – Table E (Gaming)
Wolf Man's Curse Card Game | Thursday 1:00pm 2 hours | Event 313202
D6xD6 RPG: Ghost of a Chance | Thursday 6:00pm 4 hours | Event 118429
The Mother of All Monster Cons | Friday 1:00pm 3 hours | Event 213301
D6xD6 RPG: Fear the Light | Friday 6:00pm 4 hours | Event 318516
D6xD6 RPG: B-Movie Madness | Saturday 1:00pm 4 hours | Event 413403
Clashing Blades! Tournament | Sunday Noon 3 hours | Event 112353
I hope to see you there!